Metaps Analytics can now combine TV, Internet, and Smartphone Advertisements with Website analytics.
TOKYO – December 2nd, 2015 – Metaps Inc. (HQ: Tokyo, Japan; CEO: Katsuaki Sato, hereafter "Metaps") has added an enhanced function on Metaps Analytics. Users of Google Analytics can now check their statistics on Metaps Analytics. The data from smartphone and broadcast television advertisements will be consolidated with existing website tracking information.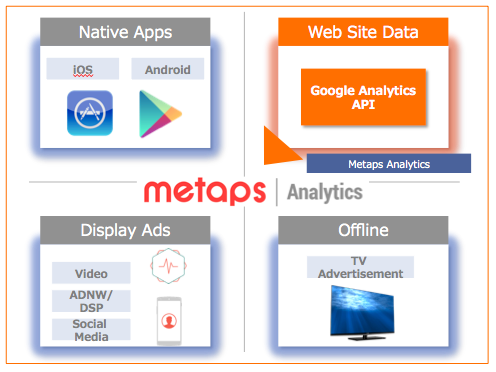 App publishers commonly use television advertisements to reach a mass audience. At the same time, video ads on smartphones are becoming more popular to complement broadcast television, which has become less relevant amongst the younger generation.
Until now, the statistics of advertisements run on various media was fragmented, and advertisers had difficulty with visualizing this data. With Metaps Analytics, the analytics data from multiple sources is consolidated and shown side-by-side. As a result, television, Internet, and smartphone advertisements can be combined with website statistics from the Google Analytics API, and then viewed in real-time in just one dashboard.
Metaps fulfills the advertiser's marketing demands to monitor multi-channel promotions, and solves this by providing analytics solutions and full-service marketing consultation.
About Metaps Inc.
Metaps provides a one-stop app user acquisition/analytics/monetization platform (known as 'metaps') and an online payments solution (known as 'SPIKE'.) Metaps uses data analysis and artificial intelligence to optimize ad delivery in an efficient method. Their strategy is to deliver the most relevant online and offline advertisements to the target audience.
Company Profile
Company Name: Metaps Inc.
Founder and CEO: Katsuaki Sato
Company Address: Sumitomo Fudosan Shinjuku Oak Tower 30F 6-8-1 Nishi-Shinjuku, Shinjuku-ku, Tokyo